Get Featured
Lash-Ed is a specialist magazine for lash stylists, trainers, suppliers and enthusiasts.
It's been created for the lash industry, by the lash industry with the help of people like you!
It's easy to get featured and published in Lash-Ed.
A chance to be published and noticed as a feature writer and expert in a niche market
Have your beautiful work featured so others can learn from a lash master
Make news by sharing the secrets of your success with others who are willing to learn
Get noticed and influence the industry with your innovation and knowledge
Take heart that you can help your industry and likeminded professionals to succeed
Promote your 'As featured' badge to show that your work has been worthy of publication
Here's how.
Having your article or work featured in a magazine is an amazing achievement. It can increase your profile, networks and heighten your credibility with colleagues and clients alike.
It's free to be featured and published in Lash-Ed (other than direct advertising).
You'll be accredited for your work as your name and that of your business are featured, along with a website address or a social media handle.
All contributors receive an 'As featured in Lash-Ed' badge to acknowledge their contribution. It can be displayed with pride on websites, social media channels and marketing materials like roller banners. Wouldn't it also be great to display your article in your salon, treatment room or training centre for all to see?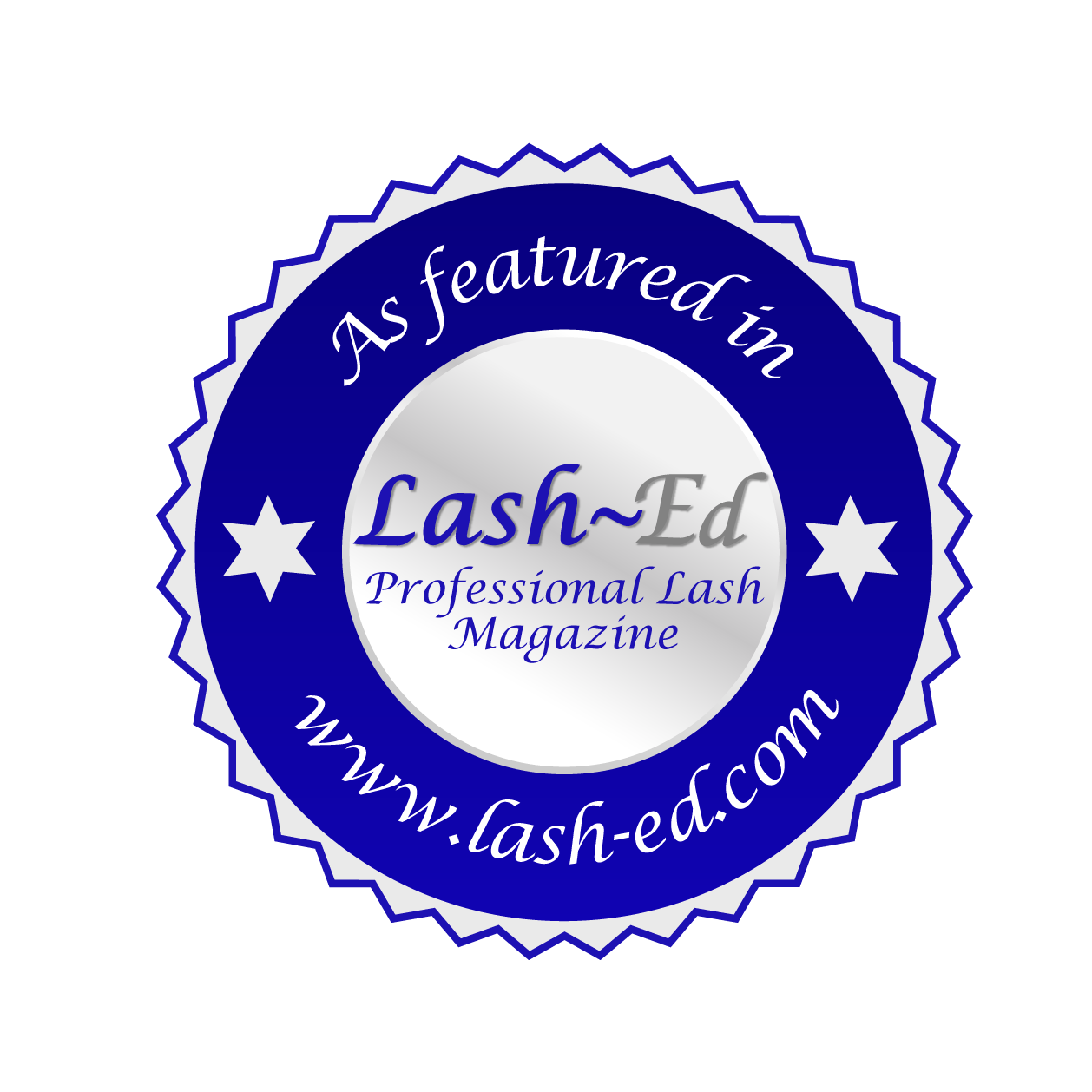 Wondering what to write about?
Need inspiration?
Share useful theory that can help others to increase their knowledge
Share practical tricks on how to create amazing sets of lashes to help others to build their skills
Share great tips about business growth or marketing
Share tips on strengthening client relationships or experiences
Struggling for ideas?
Think about something you're really good at. It could be something that people ask you for your advice about.
What sort of questions or debates are happening in the social media forums?
Over the next month, be conscious as you work. You will probably come across something that you do that would be great to share
Perhaps you found a way to overcome a problem or dealt with a difficult client successfully and you could share the experience.
Have you had an experience that didn't go as well but you reflected and learned from it. You may have risen from it! These stories are authentic and really help others to avoid your fate!
As a guide, write about topics where you have specialist knowledge or skills.
Lash-Ed are keen to ensure that are matched by a level of expertise to validate it so that great information is shared.
As an example, we would invite certain medical professionals to write about allergies given their professional training and experience.
There's so much scope and if you think you have an article idea, you're welcome to check in with Julie for guidance so you spend your writing time to best effect!
Remember, you must offer something that is likely to help others. If it's overly self-promotional then we may consider that it's more of an advertisement than an article.
Being a lash stylist requires a vast skill set. You're in business, you have hands as steady as a surgeon, the ears of a therapist, an eye for detail, a mind for creativity and the patience of a saint! You will have something valuable to share and Lash-Ed gives you the chance to help others and our industry.
~ JULIE KNIGHT
How much to write?
A single page requires around 550 to 600 words and 2 images.
A double page requires around 1300 to 1500 words with up to 5 images.
Word counts are important. For more information, see our guide for tips on how to write an article.
We may need to edit your article to ensure that there are no spelling or grammatical errors. We also reserve the right to finesse it to help it to read a little easier or to help it flow. If we need to slightly reduce the word count to make it fit, Lash-Ed will do so without harming the integrity of the piece.
If English is not your first language, don't worry. You can write in your preferred language and Lash-Ed will use translation tools. If the translation appears to be off-set, we would not be able to use your article as we would struggle to represent your work with integrity.
Photos and videos
For authenticity, please send us a picture of you so readers can get to know you! Don't be shy! In addition, send any images that complement your piece. It could be a diagram, illustration or photograph. Please follow this simple guide for all images:
High resolution and clear
No watermarks or logos
Not over edited. Strictly no editing is allowed on lash work so readers see its true form
They must be single images and not presented as collages
You must either own the copyright or have express permission to use the image. Lash-Ed assumes this to be so on submission as they are taken in good faith.
Lash-Ed prefers to use the writers images. There may be times when we need to use our own or additional images to help tell the story or explain the piece.